The following is a city guide by my NYC wingman Dominic Taurus. Check out his new blog.
Overview
Montreal is the second largest city in Canada (Toronto being the first). It belongs to the Quebec province. The currency is Canadian dollars but most vendors take American dollars. It's by far the safest city I have visited.
What are the the women like?
They're classy. Most girls ooze class and dress to the nines. Even when it was snowing girls were wearing short dresses and heels. You also have plenty of cute punk rocker girls to choose from. Don't expect to see women with monstrous curves like you do in America. The beauty of Montréalaise women really lies in their faces and charming French accents.
Demographics: [added by Zolo]
Population: 1.6 million
Racial makeup: Whites (74%), Blacks (9%), Arabs (6%), Latin Americans (4%), South Asians (3%), Chinese (3%), and other (2%).
Any Nightlife Recommendations?
Les Foufounes Électriques
I went there twice. Wednesday was the best day: there was rock 'n' roll playing all around, with a mosh pit included. If you like punk rock white chicks you'll go mad. I came back later that week when they played more main stream music; it wasn't as good. One of the most beautiful women I ever kissed was here.
Terrasses Bonsecours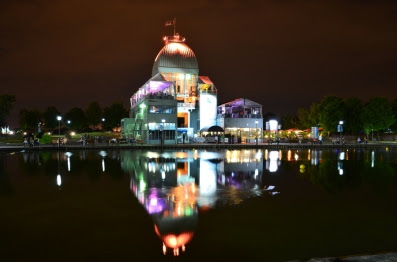 Strictly a summer club. Located near old port, this club is really breathtaking at night because of the way it's lit up and stands tall above the water. It's very upscale, so dress nicely. You don't need to wear a tuxedo, but don't come wearing sneakers or your brown travel cargo pants. Drinks are extremely expensive, so pregame hard.
I heard about this place from a girl I number closed. The line wrapped around the place with people eager to get inside. Luckily, I rolled up with a wing I had met at Foufounes who had a friend that worked inside and let us skip the line going straight to the VIP top floor.
As packed as the club was, I only caught sight of one or two below-average girls. This place is chick heaven! I made out with a feisty Asian outside the club. She hit me soon after because she had a bf…and then kissed me again. She came over the next day where her pierced tounge performed supremely and she rode me like a mad woman.
Petit Campus
Located among a strip of bars, this is the perfect place to start the night. It provides plenty of options and if you're dancing game is on point, you can do some real damage here.
Any other info we should know about?
Things To See & Do
Old port is the place to be during the summer. You have tons of foreigners and locals swarming the area. There are countless restaurants to choose from with top notch food (albeit expensive), and it's great place to buy souvenirs. They usually have a performance going on in the square. I recommend going at night as a date option.
Mount Royal is a pleasant place for a walk or a date. I took a girl here and had a great time.
Transportation
Unless you have a huge bankroll ot live far away, I would not recommend flying there. Amtrak is a much more affordable option assuming you are coming from America from the east coast. You can also take Megabus to Toronto then take another Megabus bus to Montreal. Sadly, there is no direct route on Megabus to Montreal. I would only recommend the latter if you want to spend a day or two in Toronto. Another option is to just drive there. For my second visit, me and two friends drove from New York to Montreal and we each paid about 30 bucks roundtrip for gas.
For the first couple of days in Montreal I was an idiot and took cabs: a good way to go broke fast. Take the train. You need to purchase an opus card which you can do in the train station. An opus card will run you $78 for a monthly unlimited. If you're someone who looses their wallet while drunk, fret not, you can register your opus card and it will protect you from loss or theft.
Personal Experience
I've been to Montreal twice; once during my summer break in 2012 and the other during my 2013 spring break. On my first trip there I dated this gorgeous slim Congolese girl, sadly we didn't get any alone time but kept in touch. On my second trip I got a better equipped bachelor pad via airbnb. When she came over she found the lights dimmed and r&b music playing… we cooked dinner together and then indulged in each other's bodies after months of anticipation.
Other Resources
Montreal Bars and Clubs Datasheet by G Manifesto
Montreal Datasheet by Roosh V
Montreal Datasheet on RVF
10 things guys should know when travelling to Montreal by Bro Bible