Overview of Jamaica's "Big Three" Coastal Towns
On paper, the Jamaican Coast sounded like my dream destination. I love reggae, black chicks, and smoking weed. Throw in a beach? Damn, I couldn't WAIT to go to Jamaica. It was a little grittier than I expected, which I liked, and within five days, I'd gotten laid twice, seen tons of amazing live music, and was high the whole time. A great time, right?
But in reality, I found the place hugely disappointing. My opinion changed when I got to Kingston and saw the Island's interior, but towards the end of my first week skirting the touristy coastal towns on the north coast, I was counting the days for my flight to Cuba. People weren't friendly, everything was massively over-priced, and finding a good looking Jai girl was almost impossible—almost as impossible as walking down the street without being constantly accosted by aggressive hustlers. I thought the Gambia was bad, but the level of hustle in Jamaica is among of the worse I've encountered in 93 countries. These guys were like mosquitoes: angry, racist, red-eyed, blood suckers with dreadlocks, buzzing in your ear day and night. Yes, you meet the odd guy who's not a cunt, but expect to hear the word "respect" in it's most ironic.
If I return, I'll be hitting the East Coast.
What are the women like?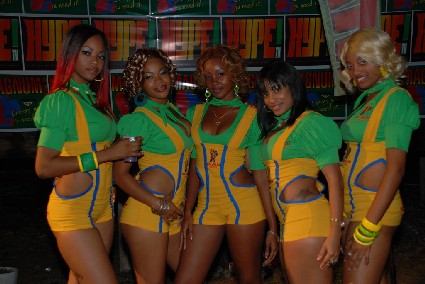 This isn't Africa. In general, Jamaican women are fat, stocky and unattractive. The skinny ones are sexy, but finding a face above a six was hard. Kingston has some stunners, but during my first week on the coast, I was convinced the Spanish dumped all their ugly slave chicks here on their way to Cuba. I saw one knock out, but she was half- Syrian. Jamaicans are a masculine stock, mostly descended from the Akans (think Ghana) and the Igbo (warrior Nigerian tribe) in West Africa. If you're coming from Cuba, the Bahamas, or even the DR, you'll want to shot yourself in the dick with the drop off in quality.
The reason for this?
Fat is sexy in Jamaica. And the worst bit is these obese monsters (or "fluffy" women as the locals say) have more confidence than Russian models. Finding a chick without a belly is not a problem, but finding a decent face to go along with it is. Kingston is were you need to be. All that said, Jamaicans girls have really cute accents (almost as cute as Bohemians) and they are unrivaled on the dancefloor.
My upcoming Kingston city guide will go into more detail on Jamaican women.
Montego Bay
Overview:
Mo Bay has good nightlife at the weekend and is probably the best of the three places to find a decent Jamaican girl, but logistics suck balls. Expect to shell out for taxis, pricey rooms, and good luck trying to get a "guest" back to your room. You need to find a girls with her own place. Both me and my wing got our Jamaican flags here our second night.
Nightlife Venues:
All the action takes place on Hip Strip. Margaritaville was the best spot in town. It's twice the price for beers, but it's got a lot of girls here. Come late. The next best place I recommend is right at the southern end of the strip called The Native. It's got live music and it's more a local scene. We were also lucky to be around for a massive outdoor party at Agua Sol. We were the only white dudes. This is where we picked up our flags.
Negrils
Overview:
Beautiful beaches, great music, but over-priced and full of hustlers and prostitutes. The logistics were the best I've experienced on the island. We stayed at Roots Bamboo. You can an en-suite cabin right by the beach, and bring girls back, but as mentioned, 95% of women you meet in bars are prostitutes. However, it was low-season. I imagine in high season the place is rocking.
Nightlife Venues:
Nearly everything is within walking distance. The party changes depending on what night is it. Roots Bamboo and Alfreds alternate live music during the week. It draws a decent crowd, even in low season. The main nightclub is The Jungle, just across the road. Sadly, every venue is packed with hookers.
Ocho Rios
Overview:
A hybrid of Montego bay and Negrils. It's much more populated and developed than Negrils, but unlike Mo Bay, you won't need taxis and the vibe is more relaxed. There are a lot more "normal" Jamaican girls here, but we didn't see one that was above a 6. And that was ladie's night! Luckily, there were a few cute tourists around, the best of which was a sexy Guyanese Canadian. Again, my place would not allow guests, so we sneaked into a hotel Jacuzzi and banged there. Also in the elevator and the hallway… fun times.
Nightlife:
Ladies nights at Amnesia Night Club was kicking and the only game in town mid-week. Things change and the party moves. The best thing to do is ask around. Margaritaville is another popular spot weekends.
Any other recommendations/advice?
Don't buy your weed in Negrils. You'll get ripped off. I spent $2 in Mo Bay and had enough to last me two weeks.
Stay at Roots Bamboo or nearby in Negrils. It has a bar that gets super busy with live music at nights. You can bring girls back and it's also a stone's throw from the town's biggest nightclub, The Jungle (open Thursday – Saturday).
Bottom Line
If you're visiting Jamaica to relax, I recommend you go east to the likes of Port Antonio or explore the island's incredibly beautiful interior. If you're here for cute girls and nightlife, go to Kingston.
RELATED CONTENT :
 Jamaica: "Gyals n tings" by Scotian