Fancy a rush?
Let's face it, danger is a turn on.
Here are my Top 5 locations for a dance with danger.
If you are considering visiting any of the places below I recommend you read my WAR ZONE SAFETY GUIDE.
5. Iraq
Needless to say, parts of Iraq are pretty unstable due to the war. That said, any backpacker can cruise into Kurdistan in the North from Turkey without any hassle. Ethnic tensions remain high, but it's the only option for backpackers. It's supposedly dangerous but I have a friend who travelled there earlier this year (2010). Mosul is the place to be, but venturing south can get you in serious shit. If you are American, maybe you should avoid this country.
4. Tribal Areas, Pakistan
The swat valley and surrounding areas are currently experiencing an insurgency. Extremists allied to the Taliban and Al-Qeada are not exactly pro-western and backpacking is not recommended. That said, a cunning disguise and some words of the local language could provide you with safe passage. As of March 2010, the dramatic Khyber border pass to Afghanistan is closed. Buy hey, it's not all bad – Why not check to an open arms bazaar and get yourself a Bazooka? It would make a great Facebook pic!
3. Kivu, D.R Congo
The UN classify Kivu as a major conflict zone. Guerillas, gang rape and volcanoes await. The Hutus, the LRA, the Congolese army and other rebel groups make for a great welcoming party. I went here in 2007 and it was the most thrilling experience of my life. But my tales from the Congo are for another time. A bit of French or Swahili is helpful. Bring cash.
2. Southern Provinces, Afghanistan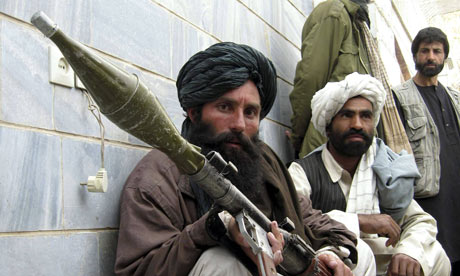 Similar to Pakistan, anti- western sentiment remains high. Many Taliban strongholds exist in the south. The roads from Herat to Kandahar and similarly Kandahar to Baghdad are said to be the most dangerous on earth. Sounds like good fun! I recommend Pashtun attire, growing a beard and learning Dari. Visas are easily obtains in Mashhad, Iran.
AND THE NUMBER 1 SPOT GOES TO…
1. Somalia & Puntland
Puntland is not so bad. Privacy, kidnapping and corruption is rife but parts are relatively safe and accessible from Somali-land. South Somalia is a controlled by various factions from warlords,forces loyal to the intern "government" and Al-Shabab. This is the number one place in world to go if you want to get killed or held to random. Zoom in on the capital Mogadishu in Google Earth and you will see what I'm talking about. If you want to visit, I recommend learning Arabic or Somali, learning about Islam and pretending you are there for Jihad.  KILL THOSE FUCKING INFIDELS!