Montréal in three words:  Bi-ligual, sexy, lively.
Chance of Hooking up: 3.5 / 5
Quality of Girls: 4 / 5 (highest I've seen in North America)
Nightlife: 4 / 5
Smoking tolerance: 5 / 5
Livability: 4 /5 (loses a point for the cold and French snobbery)
Costs €$£
Bachelor's budget: $120-160 per day.
Beer: 7 CAD ($6 USD) for a pint.
Bed: $60-100 USD for an AirBnB apt or hotel room close to the action.
Bud:  10 CAD for a gram.
Food: $8 for some local poutine in a bar.
Other: Many clubs charge up to 10-20 CAD for entrance.
Overview
Ah Montreal, famed for its beautiful women and French "charm". It's the largest and most important Francophone city in the Americas and the second biggest city in Canada. It's similar to Manhattan in that it's an island, but it's much larger. Luckily though, the action is concentrated around the center on the east side. Here is where you'll find the skyscappers of downtown, most of the nightlife, and all the touristy stuff around the old port.
Here's a 3 minute video I made so you can get a feel of the city.
The Girls
Demographics: Population is 1.7 million. Two thirds of the population are white, most of which are French-speakers. Blacks are the next biggest group, the majority of which are Haitian and therefore more visible in the French part of town. Other groups, such as Arabs, Latin Americans, South Asians, and Chinese are also visible to a lesser extent.
Appearance: The girls of Montreal gets a lot of hype from men on the internet, and I'm here to tell you the truth: they're bloody right! The city easily has the sexiest girls I've seen in North America. Twitter seems to agree, and my audience tends to be pretty harsh on Western Women.
How would you rate the quality of women in #Montreal out of ten?

— Mark Zolo (@NaughtyNomad) July 31, 2017
Go out in the French part of town up St.Laurent and you'll see so many attractive women it's almost overwhelming. For whatever historical reasons, the European genetic stock is simply superior to that of English-Speaking North America. More importantly, the girls go all out here with high heels, short dresses, and make up meticulous applied. They act, walk, and speak more feminine too.
And if you like black chicks, you'll find the bootlicous French Haitians here vastly more feminine and appealing than the typical uncouth ratchet chicks you'll find down south in the likes of NYC.
Attitudes: Compared to America, girls is Montreal are a definite upgrade. They are more receptive, have less hang ups about race, and you won't see as many tattoos and parrot hair as elsewhere. Some Quebec can be a little stand-offish at first if you don't speak French, but most speak English as well as any other North America.
That said, a lot of girls here have high bitch shields and the really good looking ones are quite entitled. They get hit on a lot. Men here aren't shy and some of them of downright thirsty, specifically from Haitian dudes. At the end of the night, you find gangs of them hanging around the street like horny vampires, hitting on alone anything in a skirt. As such, guards tend to increase as the night progresses.
Gaming Strategy: 
I believe the most effective way of picking up in Montreal is actually street game along St.Laurent at night. The sheer volume of women is crazy, and you can strike up a conversation without dealing with loud music and a packed room.
Online dating and Tinder is also extremely popular in Montreal, but more in colder months when nobody wanted to go outside. In summertime, you're much better picking up face-to-face.
To learn French I used and recommend Pimsleur.
The Dirt
Accommodation: I suggest staying as near to the St. Laurent metro stop as possible. Around there way you'll be within walking distance of all the bars on St. Laurent,  as well as the major action streets of Sainte Catherine and Saint Dennis. You're also a short ride from the Anglo-nightlife downtown.
Gym: There are several gyms in the area. The one I used the university gym Centre Sportif De l'UQAM. A day pass was 12 CAD and it had free weights, squat rack, etc.
Getting High: Getting weed is pretty easy in Canada in general. In my opinion the best place to score weed in the area around Les Foufounes Électriques . That venue attracts a lot of smokers. 10 CAD worth did me for a week (I'm not a big smoker though).
Other recommendations: If you're only there for a weekend consider going on a pub crawl to get a feel for several venues without paying in everywhere.
The Nightlife
Montreal is famous for its nightlife,# and in my opinion is almost rivals New York City. Similar to NYC, it would take me several months and a maybe a book to give a comprehensive guide to the nightlife, but I did a decent pub/club crawl here and I've done my best with recommendations.
The nightlife is essentially split into two main areas, the French-speaking area centered around St.Laurent street, and the English-speaking area downtown around Crescent Street. They feel like two different worlds, but both are concentrated and good fun. In my opinion the French part is vastly superior for variety, choice, and women.
St. Laurent and Around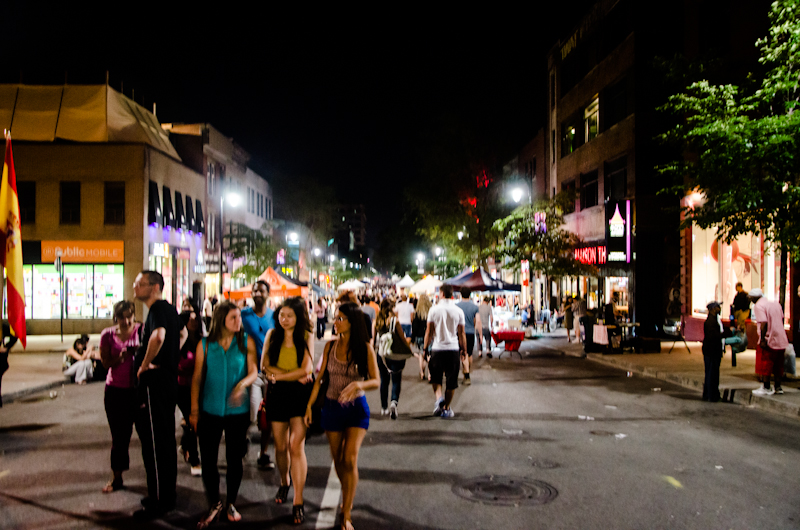 In the French part, aside from the pedestrianized strip of St.Laurent (concentrated between Sherbrooke and Mount Royal), there are a few venues on St.Dennis and further east.
If you like rock bars and cheap craft beers, I recommend Foufounes Électriques for warming up.  If you like punk-rock white chicks, my wingman Dom torres also recommends it for during the week when they have gigs on. Nirvana used to play here.
Another spot I highly recommend for pre-gaming is themed TRH Bar, a dive bar lined with graffiti, cheap drinks, and an in-house skate park. How they get insurance for this place is beyond me. It's featured in my video above.
I don't have great personal recommendations for clubs. The following are just overviews of places I visited..
If you like black chicks, the quality in hip-hop club Blvd44 was insane. You'll see booties there that will make your eyes bleed. However, I wouldn't recommend it because of the hefty cover charge and the pretentious vibe (a lot of bottle service and cliques). I didn't feel the crowd were very white-male friendly either.
I also checked out the well-known Muzik club, a large high-end club with two dance floors. It has the numbers, but personally I'm not a fan of these type of places. Too packed, loud, and bad ratios.
For better club recommendations from other travelers below.
Downtown
Downtown Crescent street, known as "la rue des anglais et yankee" by locals, is the main strip catering to English-speakers and Americans. The vibe here is totally different from St. Laurent but you'll still see a ton of talent.
The only place I checked out was Sir Winston Churchill and Thursdays, both popular places with dance floors.
Other Resources
Why not check out more cheeky City Guides?
For more info on Montreal or if you have any questions, check out the links below or leave a comment.
Check out the Montreal thread on the forum.
Collection of Men's Guides to Montreal by G Manifesto
Montreal Data Sheet by Roosh V
Montreal PUA Guide by Chris Shepherd (Love Systems)